Tracking generator for ADVANTEST TR4131
Tracking generator 30...3500MHz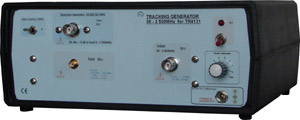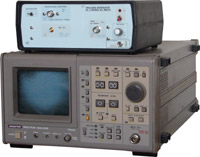 Specification:

Frequency range: .................................................. 30...3500 MHz
Output level: ........................................................... -13dBm (94dBµ) ± 3dB
Impedance: ............................................................. 50Ω
Spurious signal off: ............................................... 20dB typ.
Harmonic generator 10 MHz: ............................... 53 dBµ ± 3dB - opcia
Attenuator:............................................................... 0...10dB continuously
Connectors: ............................................................ SMA in; BNC out
Dimension: ............................................................. 237 x 95 x 220mm
Price: 599,95 €
1390,00 € tracking genarator + spectrum analyzer TR4131
Option:
A. embedded attenuator 25 or 50dB.
B. embedded harmonic generator 100 MHz; or 10 MHz; or both.
We can customize tracking generatos to various spectrum analysers.


---
Spectrum analyzer ADVANTEST TR4131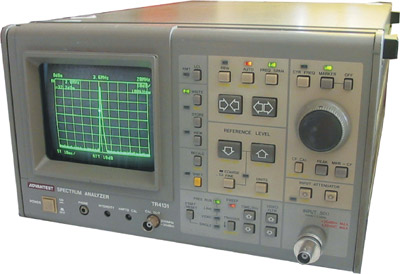 TR4131 is a wide-band instrument, working in a single range(!) from 10 kHz to 3700 MHz, and it is controlled by a microcomputer. It can also be controlled through a GPIB. The three control functions - central frequency, wobbling range and reference level, are controlled individually. The intermediate frequency bandwidth, wobbling time and input attenuator are controlled automatically, but can also be controlled manually. The three settings of the analyser, and also the measured signal, can be stored in a memory. The instrument has the function of automatic search for the maximum signal and its centering on the screen. The measured signal is displayed digitally with the resolution of 0.05 dB.
Specifications:

Frequency range ............................................................................................ 10kHz...3500MHz
Frequency span............................................................................................... 0...400MHz / Div.
Resolution bandwidth ....................................................................................1kHz...1MHz
Max. input level ............................................................................................... +20 dBm
RF input ........................................................................................................... 50 Ω ; N connector
Time / Div. ........................................................................................................ 5ms/Div....100s/Div.
Sweep mode ........................................................................................... free run; line; video; single
Video filter ........................................................................................................10Hz; 100 Hz; 10kHz
Average level of noise .................................................................................. -116 dBm
Video filter ........................................................................................................10Hz; 100Hz; 10kHz
Screen display range ................................................................................... 80dB
Displayed level ............................................................................................. dBm; dBµ; dBµ/m
Local oscill. output for tracking gen............................................................ yes; SMA; 50Ω

Price: 990,00 €